---
122 N.E. F St., Grants Pass, OR, 97526 (Next to Wells Fargo) • (541) 291-7900


---
Welcome to Candela!

Do you want to learn to dance? The hardest part is taking the leap and going your first class! Once you're here, we'll make you feel at home. It's a great way to meet new people or try something different with your significant other. We have a lot of fun, and hope you come join us!

---
Monthly Newbie Dance Meetup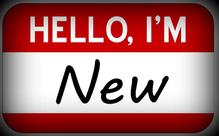 Want to learn to dance? Have you been waiting for the right time to start? Looking for a friend to go with you?
Candela is launching a new feature in January: a FREE meetup and dance outing for new dancers to help them meet people and get their feet wet in the dance world. Our first meetup will be on
Sunday, Jan. 7.
Here are the details:
3 to 4 p.m.: Stop by Candela for an informal introduction to the studio and the dance community.
JJ Rowan will be your host!
4 p.m. Dance Bomb: We'll walk from the studio to the Blues Jam! Hosted by Dave Vestnys at the nearby Sound Lounge to spend time together and get some time on the live dance floor!
No partner or experience is necessary for this FREE afternoon of community and dance -- just show up and join the fun!
---
OTHER UPCOMING EVENTS AT CANDELA: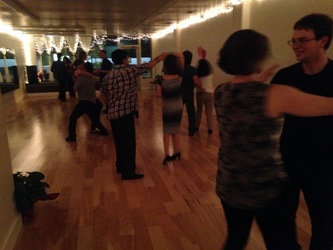 • FIRST FRIDAY DANCE & POT LUCK: Join us the first Friday of each month for our First Friday Dance & Pot Luck! There is a West Coast Swing lesson at 7:30 p.m. with Jerry and Sue, and Jerry DJs the open dancing starting at 8:30 p.m. , with swing, salsa, blues, country, ballroom and more. Song requests welcome. No partner needed and no experience necessary! Admission is $8, or $5 if you bring a dish to share. This month's dance is on Jan. 5.

• MONTHLY WEST COAST SWING SERIES: Starting the first Monday of each month, Candela offers a Beginning West Coast Swing series, taught by Melissa & Paul. Classes are on Monday nights at 5:30 p.m. / Level II WCS at 6:45 p.m. / Level III WCS at 8 p.m. (by invitation). FREE open dancing for anyone after 9 p.m. The cost for the series is $25 per person for the whole month.
PLEASE NOTE: This month's series begins JAN. 8 because of the holiday.
ADVANCE SIGN-UP REQUIRED: To enroll, call (541) 291-7900 or email candeladancegp@gmail.com

• SALSA TUESDAYS @ CLIMATE CITY: Do you like Salsa or have you been wanting to try it? Join us at Climate City Brewing Co. at 509 S.W. G St. every Tuesday night for Salsa and Bachata. Lesson at 7:30 p.m. / Dancing from 8 to 10 p.m. Host/teacher varies, admission is $5.
*** THIS EVENT IS NOT AT THE DANCE STUDIO ***
Looking for a gift idea? Click HERE to visit our online store and view gift certificates & packages

---
The vision behind Candela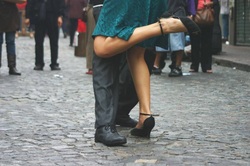 Candela Dance Studio was created to expand dance opportunities in Grants Pass and to spread the love of dance. We currently offer classes in West Coast Swing, Bachata, Line Dancing, Salsa, Zumba, Ecstatic Dance, Yoga, Tango and Nightclub 2-step. Our aim is to share the joy that we feel when dancing.
The vision is for the studio to be a place where people can come to learn dance steps, patterns and technique in a welcoming, friendly and safe environment among friends. Once those technical building blocks are in place, dance can be a wonderful and extremely satisfying way to express yourself!
The studio would not have been possible without community support from fellow dancers

and others. To learn more about our story, click HERE
Private lessons & Rentals
~ GROUP CLASSES ~
For the group class schedule, click on the CLASS SCHEDULE tab above.

~ STUDIO RENTALS ~
Candela Dance Studio is available to rent for private parties, rehearsals and special events. Inquire for details.

~ PRIVATE LESSONS ~
In addition to group classes, private lessons are available. For rates and availability, call (541) 291-7900 or email candeladancegp@gmail.com. You can also book a private lesson in West Coast Swing or Salsa online